AIRPLANE CHARTER SERVICES IN DAYTON, OH
Welcome to First Flight Aviation Charters
We have the capabilities to serve all of your private charter needs. If we can't meet your travel plans with one of our aircraft, one of our partners can. Whether it's a short hop to Cleveland or a trip to the West Coast, our charter flights have got you covered. Ask our fixed-base operator in Dayton, OH for a quote and find out just how affordable private charters can be.
The Advantages of Private Charter Flights Over First Class
Judging by the headlines about air travel, it doesn't seem people are enjoying commercial air travel lately. Do the benefits of a private flight make any additional expenses worthwhile? Certainly, using a private air carrier could provide a far more pleasant trip if you need extra space or you're on a tight schedule.
Here are some other benefits of private aircraft charters to consider for your next flight:
Fly on Your Schedule For the Ultimate Convenience
When you fly commercially, the airline's schedule reigns. No matter the class of service, passengers cede all control over departure and arrival times, delays, and cancellations to unseen commercial operators. Flying direct may not be an option, so commercial passengers may also have to plan for one or more layovers between flights.
Conversely, flying charter aircraft means you can schedule everything around your needs. Fly comfortably and head directly to your destination without frustrating stops. You also won't be vulnerable to delays due to late aircraft or crew issues after excess flight hours or low staffing.
Save Time for Things That Matter to You
One of the most exciting benefits of flying private aircraft in Dayton, OH is that it saves time on the ground before and after the flight. Why arrive several hours before your flight to check in and navigate security when you can have a car drop you off planeside and board within minutes before takeoff, with the airport line services already taken care of? Upon landing, there is no wait to deplane, queues for ground transportation, or long walks to distant baggage claim areas to retrieve your luggage.
Are you on a tight schedule? A private flight arrives promptly and allows you more time to enjoy your destination. Private planes typically use smaller regional airports rather than major metropolitan hubs, so you might also land much closer to where you need to go.
Enjoy Increased Privacy All the Way There and Back
Choosing private charters gives you total control over who boards the plane. It's just you and your travel companions– no overly friendly seatmates, unruly passengers, and other annoyances of commercial air travel.
Experience Peace of Mind with Better Luggage Handling
First-class passengers on commercial flights enjoy a luggage allowance that other classes do not, but there are still rules regarding weight and other factors. If you exceed your allowance, you pay even more. If you're flying with pets, they probably won't ride in the cabin with you, either.
Skip the luggage hassles and choose to fly private.
Bring all the bags you need without extra fees.

Enjoy easier travel with bulky items like sports equipment.

Travel with your beloved pets.
With private charters, you never again have to worry about lost bags, rough handling, or excessive restrictions on what you can carry on.
Reward Yourself with a Luxurious and More Relaxing Flight Experience
First class is certainly more comfortable than economy class seats, but that's nowhere near the comfort and service you'll enjoy on a private charter flight in Dayton, OH with top-notch aircraft avionics. Even modest charter aircraft have plenty of space to stretch out and relax with proper tables for working or eating. Catering is available upon request on most airplane charter services.
Who should take advantage of the extra space on a private plane?
Passengers who need more accessibility, including the elderly and those with disabilities

Passengers who can't or don't want to navigate long distances to the gate

Passengers who need plenty of space on board for equipment like wheelchairs

Passengers who want a more comfortable and less stressful experience with extra assistance from experienced flight professionals
At First Flight Aviation Charters, we pride ourselves in the safe and efficient operation of our flights.
Our aircraft are maintained to the highest standards.
Our flight crews are highly experienced and well trained.
We operate two pilots on all of our twin engine aircraft.
This all adds to a safe and pleasant flight experience. Contact us to learn more now!
Aircraft Charter Fleet
CITATION M-2 (450mph) Two pilots, up to five passengers.
(Coming Soon)

The Citation M-2 is perfect for clients looking for fast and efficient travel in a quieter and spacious cabin. This light private jet is equipped with many features for added safety and reliability. The interior features class-leading design quality, a fresh air system, and on board restroom. With the fast cruising speed, quality spacious interior, extra space for more luggage and passengers, this is one of the best options for private charter jet travel in the industry.

Piper Navajo Chieftain (200mph) Two pilots, up to six passengers.
Clients who charter a Piper Navajo are often looking to travel in small to medium size groups, and this aircraft is well suited for a variety of destinations. The high quality of operation draws in charter clients, especially those looking for a more cost effective option. The Piper Navajo is for the modest Dayton, OH flyer. For the traveler that does not need all the bells and whistles but still desires the luxury of airplane charter services, comfort and reliability that the Navajo delivers time and time again.
CIRRUS SR22 (200mph) One pilot, up to three passengers.
Imagine Air Charter easy and fast, without spending a fortune. Imagine Air Charter with luxuries like a sports car but in the air. Sporting a glass cockpit & ultra sophisticated avionics, the Cirrus SR-22 is the worlds best selling single engine aircraft. Putting aside the many reasons why it is so popular to purchase (the quick cruising speeds & plush interior), many private flyers feel safer due to the Cirrus Aircraft Parachute System (CAPS). In an emergency, CAPS is capable of lowering the entire aircraft to the ground with passengers on board. The Cirrus is used all over the world in air taxi and airplane charter services.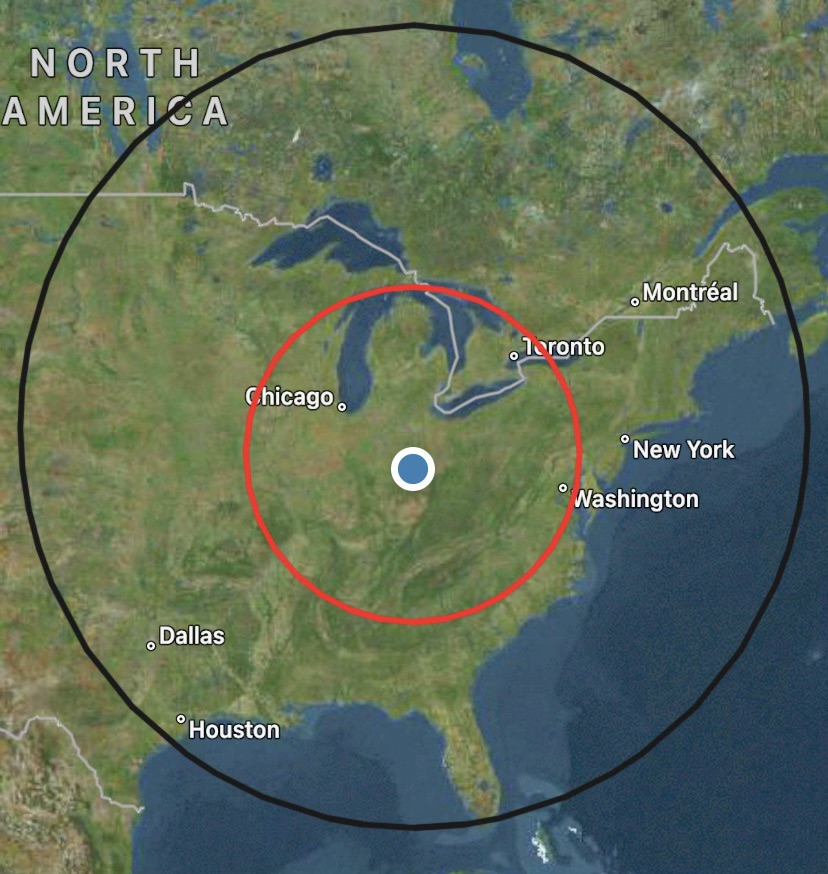 CIRRUS/NAVAJO
Nonstop Range
CITATION JET
Nonstop Range (Coming Soon)